BRAND PROTECTION SERVICES
Defending your brand identity starts with a dedicated partner.
IP Services offers customized and comprehensive brand protection support solutions to combat revenue loss and preserve your brand reputation.
Our full-circle brand protection services work to enforce your IPR, safeguard your customers, and protect your good name.
Identify the Problem
What type of IP infringement is your brand facing? We'll help you identify products that are being targeted for copyright violations or trademark infringements.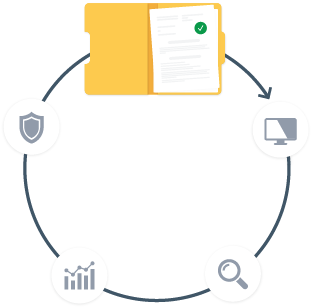 Monitor
It starts with knowing what's out there. Online marketplaces, social media, apps, websites, and the dark web are conduits for the sale of counterfeit and infringing products. Gain intelligence on which unauthorized products are hitting the market and where they're being sold. Then take action.
Investigate
When you find unauthorized product listings, it's time to ID the seller and gather evidence. Test purchases serve to collect information on the seller identity and secure physical and/or digital proof of the infringement for litigation.
Analyze
It takes a trained professional to know what to look for. Counterfeits are made to look like the real deal and can fool just about anybody. Collected evidence is studied and scrutinized to positively confirm whether a product is genuine, counterfeit, or otherwise infringing.
Enforce / Disrupt
It's time to enforce your intellectual property rights. Take down infringing listings to disrupt the online marketplace, making it harder for illegitimate sellers to make a sale. Send cease-and-desist letters to positively-identified sellers and prepare for litigation against recidivist sellers using substantiated findings and chain-of-custody documentation.
Creating a playbook and devising a toolkit to address Business Email Compromise (BEC) and Tech Support Fraud (TSF) is vital…
We've got you covered.
Our resources and expertise help you to manage your brand protection program. We support companies from all over the world in a multitude of industries through professional services outsourcing.
SOFTWARE
Counterfeit software and fraudulent subscriptions compromise consumer trust. We have the skills and experience necessary to analyze software and devices to maintain the integrity of your IP.
ELECTRONICS
Components need to be purchased from a trusted source. We'll track and investigate the legitimacy of your supply chain, ensuring you're getting the parts you expect for your product.
CONSUMER GOODS
Consumers are less likely to buy products from a brand if it's associated with counterfeit goods. Everything from toys to cosmetics to food can be compromised - the counterfeiters know no bounds and neither do we.
LUXURY & APPAREL
One way to stop fakes before they enter the marketplace is to assist U.S. Customs to seize counterfeit merchandise at the port of entry. We work with CBP to ID and halt the import of infringing goods.
PHARMACEUTICALS
Counterfeit pharma can kill. Our licensed investigators keep illegitimate drugs off the market by identifying the dangerous counterfeits and helping to build cases against bad actors.
AUTOMOTIVE
Malfunctions caused by inferior counterfeit products put your customers at risk and can tarnish your brand for years. We monitor online platforms and actively remove infringing offers before they cause harm.
Why Professional Services Outsourcing is beneficial for Brand Protection.
If you find yourself with immediate needs but no bandwidth, have a sudden change in workload, or require experts outside of your team's functionality, then you could use support from a company that can provide IP protection support plus ad hoc solutions. With IPS, you have the freedom to outsource projects on a short-, medium-, or long-term basis. We will help you handle new projects or old tasks left undone without stressing your internal resources.
25 years
Managing brand protection programs
for world renowned businesses
Multiple Private Investigators
Working cases and enforcing client IPR